JCC has introduced electrolytic capacitor technology in Japan and specialized in electrode foil manufacturing technology. In the last half-century, we have worked hard to enable technological proposals in line with all customer applications, and have led the global evolution in aluminum electrode foils as a "surface functionability technical group". In the future, however, we shall continue to meet all our customers' needs by actively advancing into new businesses as well as strengthening our research without resting on our laurels as the "top manufacturer of aluminum electrode foil".
As a Surface Functionability Technical Group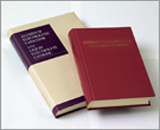 JCC does not only supply the optimum products as an aluminum electrode foil manufacturer, but also perform joint research and make technical proposals with capacitor manufacturers around the world. What makes this possible is the technology and know-how of surface functionability, in which we have come to lead the world. For customers searching for the "ideal specifications" in diverse capacitor products, JCC supplies solutions as experts in surface functionability technology, as represented by the forming process and etching of metals. We cooperate customer's technical development with total support and consulting from forecasting product performance using materials evaluation, establishment of testing methods, and test analysis.
World-Leading Etching and Forming Processing Technology
Amidst the digitization, multimedia content, and increasing portability of electronic devices, the trends in performance required by capacitor manufacturers, are also towards miniaturization, high frequencies, and energy saving. Therefore demand of electrode foils that much electricity stored in a better state while maintaining enough strength in thin foils such as. To meet customers" needs, JCC has established world-class etching and Forming processing technology—"etching technology" that expands the surface area approximately 200 times by opening countless micro-holes using electricity and chemicals on the aluminum foil surface, and "Forming processing", which generates a dielectric in the extremely thin and dense oxidized membrane on top. In the future as well, JCC will continue to support customer's capacitor evolution.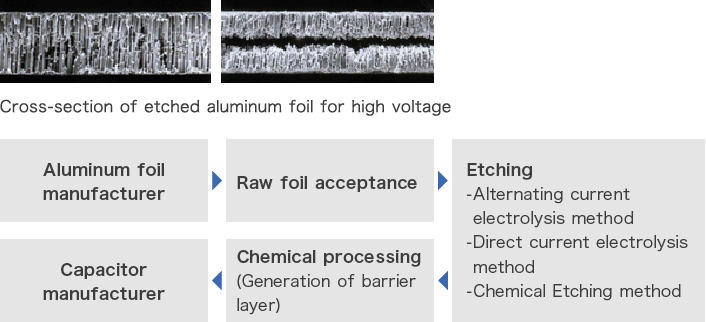 Research and Development Systems that Respond Promptly to Technical Revolutions
The base in which JCC's unique technology is nurtured is a challenging business climate not fettered by fixed ideas. To meet ever-changing needs, JCC is greatly broadening its personnel in the planning and development sections, which handle new business in peripheral fields, as well as further strengthening our research into the etching and forming processing technologies for aluminum electrode foil, which is our core business. We are promoting research and development with an eye on all fields by responding promptly to the invasion of the new era, including manufacturing and facilities, without resting on our laurels as the "top manufacturer of aluminum electrode foil". For example, we are putting to good use of our surface functionability technology cultivated in aluminum electrode foil and actively promoting trials in the field of dual-layer electric capacitors, which is demanded in expanding hybrid cars.
Research and Development System